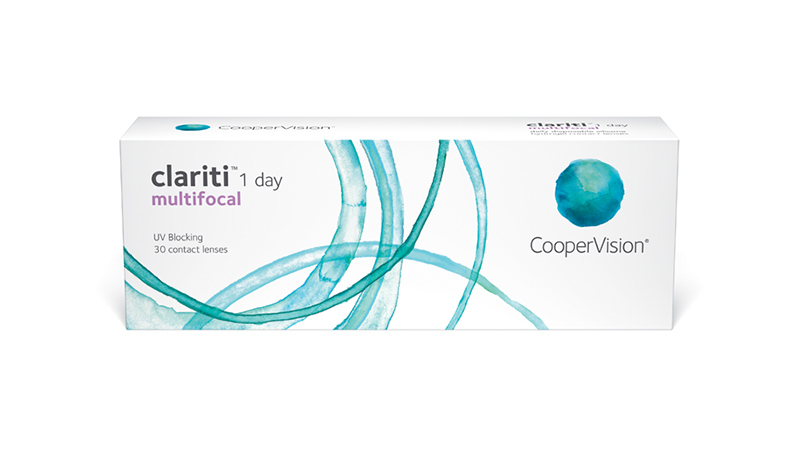 Features
Vision correction for presbyopia
Silicone hydrogel material
Supports excellent all-day comfort
UVA and UVB protection*
Daily replacement lenses
Daily Disposable Convenience Plus the Health of Silicone Hydrogel
Now your patients with presbyopia can enjoy all the convenience of a daily disposable and the healthy advantages of silicone hydrogel in one lens—clariti® 1 day multifocal from CooperVision. It's the only silicone hydrogel daily wear lens for presbyopia available today.
For your patients, silicone hydrogel means whiter eyes and a healthier** lens-wearing experience. The clariti 1 day lens allows 100% corneal oxygen consumption***. The clariti 1 day lens provides more than the recommended amount of oxygen**** across the entire lens surface to help maintain ocular health.
And for your practice, clariti 1 day multifocal lets you expand what you have to offer with a lens you can prescribe with confidence.
Excellent All-Day Comfort
CooperVision clariti 1 day multifocal is a hydrophilic lens with optimal wettability.
The lens naturally attracts and binds water molecules, holding them tightly to the lens surface, providing continuous wettability throughout the wearing time. The result is a lens with high water content***** that provides excellent all-day comfort for your patients.
Talk to your patients about the healthy advantages and daily convenience of clariti 1 day multifocal, the world's only silicone hydrogel, daily disposable contact lens for presbyopia.
*Warning: UV-absorbing contact lenses are not substitutes for protective UV-absorbing eyewear, such as UV-absorbing goggles or sunglasses, because they do not completely cover the eye and surrounding area. Patients should continue to use UV-absorbing eyewear as directed.
**Data on file; clariti 1 day offers whiter eyes than 1-DAY ACUVUE® MOIST®.
***Brennan NA. Beyond flux: total corneal oxygen consumption as an index of corneal oxygenation during contact lens wear. Optom Vis Sci. 2005;82:467–472.
****Holden BA, Mertz GW. Critical oxygen levels to avoid corneal edema for daily and extended wear contact lenses. Invest Ophthalmol Vis Sci. 1984;25:1161-1167.
*****Manufacturer's quoted core water content.
Product Details
+5.00 to -6.00 (0.25D steps)
Low: spec add up to +2.25D, High: +2.25D to +3.00D