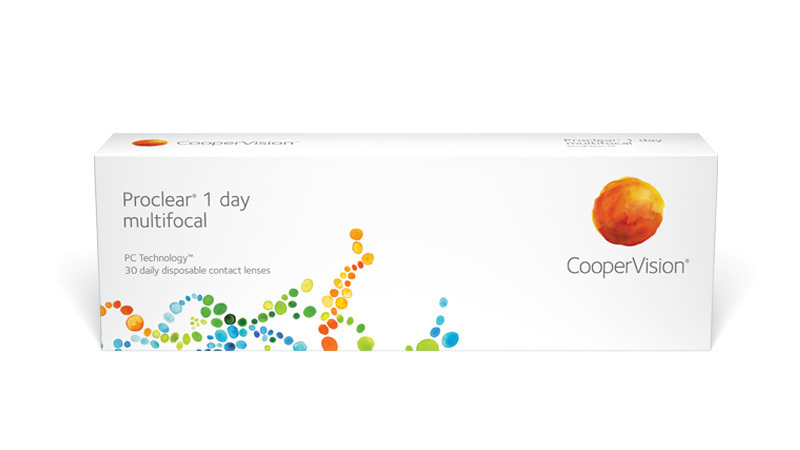 Features
Aspheric, center-near design
Excellent vision at all distances
96% hydration for 12 hours or more
May address discomfort from dry eyes
Easy to Fit
Choose CooperVision Proclear® 1 day multifocal lenses and enjoy success fitting the growing number of presbyopic patients who are interested in a 1-day lens. They're ideal for part-time, situational, or everyday wear.
Proclear 1 day multifocal daily disposable contact lenses provide excellent vision at any distance. In addition to their aspheric, center-near design, these lenses offer:
A single power profile to preserve distance vision and limit visual compromise.
Near boost in the non-dominant eye to optimizes near and intermediate vision and maintain binocularity; accommodates patients up to +2.50 ADD.
 As an eye care professional, you'll also appreciate Proclear's easy lens selection, broad, efficient parameter range, and easy adaptation for lens wearers through different stages of presbyopia.
Patented PC Technology™
CooperVision's exclusive PC Technology creates an ideal lens for presbyopic patients experiencing age-related dryness.
Based on molecular chemistry, PC Technology creates a unique lens material in which the phosphorylcholine (PC) molecules attract and bind water to the surface, creating a shield that keeps the lenses clean and functioning properly.
The PC molecules also help the lenses remain hydrated, which in turn, help them feel moist and comfortable all day long.
Product Details
+6.00D to -10.00D
(0.25 steps after -6.00D)
Center-near aspheric design
Designed with a single power profile